Home Sweet Harlem feels like chef and owner Donna Lewis's home. The brick walls are lined with modern artwork by black artists, while the pale yellow back room showcases old framed photographs. Lewis' menu, which offers Southern food such as homemade pancakes, fresh buttermilk biscuits, and salmon croquettes, exudes a similar sense of comfort.
Today, Home Sweet Harlem is located on Amsterdam Avenue and 135th Street, but it didn't always overlook Columbia's new Manhattanville campus. For seven years, the restaurant was located just across St. Nicholas Park, on Frederick Douglass Boulevard. That is, until Lewis was no longer welcome.
"I was forced out by the landlord when the demographic started to change in Harlem around 2004 or 2005," Lewis says. She says that rents slowly began to rise, while landlords systematically began the eviction process in search for tenants who could afford higher rent.
Changes in the food landscape aren't specific to Harlem east of St. Nicholas Park, or even to mid-aughts Manhattan. The food landscape in Morningside Heights and Manhattanville is in a state of flux, as local restaurants attempt to keep up with increasing rent, demographic changes in their consumer base, trends towards healthy dining options and aesthetics, and competition from other restaurants. And, pointing to the new food hall set to arrive on campus in 2020, local restaurateurs say that Columbia's Manhattanville expansion reflects this significant shift in food culture in the area and may contribute to the strains already placed on existing local restaurants.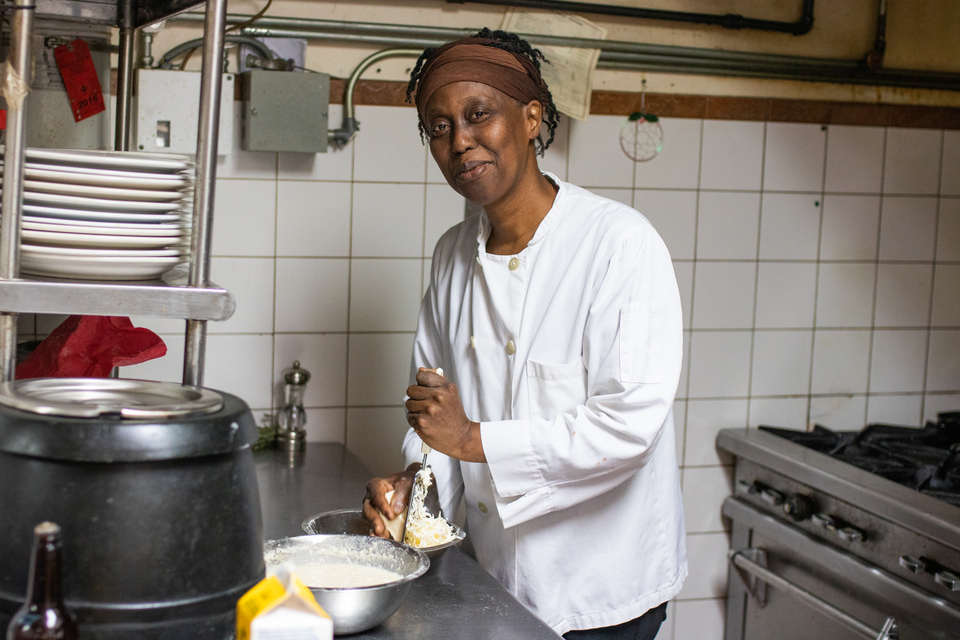 Students may have noticed changes in food businesses around Columbia's Morningside campus. Morning 2 Midnight at 115th Street and Broadway closed about two years ago, Amir's Grill between 113th and 114th Streets on Broadway closed last December, Shake Shack moved to 116th Street in August of 2017, and Dos Toros Taqueria on Broadway was expected to open this fall.
Changes in the food culture in an area go hand-in-hand with the cycle of gentrification, says Nicholas Freudenberg, a distinguished professor at the CUNY Graduate School of Public Health, and the director of the CUNY Urban Food Policy Institute. When people need 50 percent or more of their income for rent, Freudenberg explains, they have much less money to spend on food, shrinking their food market. The average rent in Manhattanville for a one-bedroom apartment as of March 2019 is $2,150 per month, or $25,800 for the year, not including the extraneous costs related to renting an apartment. Meanwhile, the average household income for this area is $47,781 as of 2017. That means rent costs make up 54 percent of the income of the average West Harlemite's household; the percentage is even higher for an individual living alone. Freudenberg tells me that one of the largest central dynamics transforming food environments across Central, East, and West Harlem is what he calls "food gentrification."
Freudenberg defines food gentrification as what happens when neighborhoods gentrify and more upscale food stores see this as an opportunity to move in. Consequently, these newer and more expensive food businesses tend to put local restaurants out of business.
"Landlords don't really put into perspective that local restaurants really bring life to the neighborhood," Anthony Lodge, owner of V&T Restaurant and Pizzeria, sighs. "They just look at us as a pure profit machine."
Several of the 10 local restaurant owners and managers I conversed with say they noticed the increase in upscale options and higher real estate prices as well as frequent closures among local restaurants.
One morning, I sit with Abdulsalam "Abdi" Abujebel, the owner of Oasis Jimma Juice Bar on the sidewalk near his restaurant on Broadway between La Salle and Tiemann Place. Abujebel, who is originally from Ethiopia, moved to West Harlem about 15 years ago from Nairobi. He tells me that when he arrived, there weren't any fast, healthy, and affordable food options nearby. Abujebel is a diabetic, so when he couldn't find anything, he decided to open his own juice bar. His face grows long as he tells me that he couldn't maintain his low prices. His three dollar juices and smoothies became five or six because of his increasing rent and heightened competition caused by chains like Starbucks that replaced local bodegas.
Lewis believes that chains are at an advantage because they have the money to pay higher rents as well as the resources to know which consumers to target. Jimmy Joung, co-owner of a Cap't Loui franchise on Broadway between La Salle and Tiemann Place, agrees that there are advantages he has over local restaurants. For example, corporate gives him data on competition and pricing for restaurants not only in the West Harlem area, but also throughout New York City.
One of Freudenburg's colleagues, Nevin Cohen, the research director of the UFPI, wrote about how gentrification changes the local food environment in his 2018 policy brief on food and New York City. According to Cohen, gentrification creates a phenomenon called "food mirages," in which large amounts of high-quality food is priced too highly and thus placed out of the reach of longtime, low-income residents.
In the summer of 2020, West Harlem's food atmosphere can expect more changes as Columbia plans to open a new food hall within the glassy walls of the Jerome L. Greene Science Center. The project will be led and designed by Franklin Becker, who started the fast-casual lunch chain The Little Beet.
The goal of establishments like the food hall is "to provide a wide variety of unique offerings, price points and special programming that are attractive to a wide range of people who live and work in this diverse community," according to a statement to The Eye from a University spokesperson. This means that a visitor may visit the food hall and find options that suit his or her needs that would have required them to visit multiple different restaurants. But some local restaurateurs are unsure of how this food hall will impact West Harlem food businesses.
Abujebel says that Columbia's presence in the West Harlem is "double-sided" because he benefits from Columbia customers, yet the University's impact on real estate has brought a significant price change to the area. He worries about competition from the food hall, as he already has to pay high rents because of the Manhattanville expansion. "If you open restaurants or coffee shops inside the campus, they are taking our customers and our market," he says.
The University spokesperson emphasized that Columbia has a "long-standing approach to its retail tenants of favoring small, local businesses," which means that it favors "NYC-based businesses" over national chains. Columbia Facilities and Operations says the food hall will feature local food vendors seasonally on weekends. The spokesperson added that the University tries to offer "a variety of quality retail options that helps meet the needs of the diverse Columbia community, the wider local community and visitors," pointing to tenants in the area.
But local restaurant owners feel that as the food hall will usher in many new vendors and students might find it more convenient, its presence could result in a loss of business, especially as many are dependent on Columbia students for revenue.
Yohannes Tekeste, owner of Massawa, an Ethiopian restaurant located on Amsterdam Avenue and 121st Street, compares the situation to that of many tech companies in Silicon Valley, which have similar food hall concepts within their building, despite there being many local restaurants in the surrounding area. As a result, workers have no incentive to leave the building and frequent local restaurants. On the other hand, he believes that the hall will be beneficial for students' dining options.
"It's a Catch-22," Tekeste sighs.
Peter Asan, co-owner and retail manager of Subsconscious, one of Columbia's tenants, explains that while the University's leases are fair, local food businesses are also reliant on University students. This is beneficial for three-quarters of the year, but becomes very difficult during the summer and winter breaks when his income diminishes greatly. While his rent, taxes, and electricity bills stay the same, Asan explains that he always finds himself falling behind and catching up throughout the year.
"It affects a lot of restaurants in our area," Asan tells me. "Little by little, it takes a toll on you."
While rents in the area have increased substantially for many businesses, the University—one of the most prominent landlords in the West Harlem area—says it keeps "lease terms fair and equitable" in both Manhattanville and Morningside Heights, thus allowing its retail tenants to become "neighborhood institutions that serve the community for decades."
Don Borelli is the founder of Arts and Crafts Beer Parlor, another tenant of Columbia located at 116th Street and Amsterdam Avenue. He says that the University has been very reasonable in terms of rent and approachable.
"We liked that the University's approach was not just give the location to the highest bidder or paid the most rent," Borelli says. "It seemed like they wanted to have diversity in the neighborhood."
However, both Lewis and Josh Givens, the manager of Miss Mamie's Spoonbread Too at 110th Street and Columbus Avenue, state that their primary concern is with the lack of local specificity in the guidelines regarding Columbia's business practices. Both would ideally want to see minority- and women-owned business enterprises as permanent food vendors in the food hall. At the very least, Lewis explains to me, he believes the food vendors in the hall should be longtime Harlem-owned businesses.
There is a clause in the Community Benefits Agreement—the 50-page document signed in 2009 in which the University devotes $150 million of grants and services to local groups and residents in West Harlem as reparations for the Manhattanville expansion—that addresses this issue. Columbia says it "will establish a target goal of at least thirty-five percent (35%) of the total dollar value of non-construction contracts (excluding academic and research contracts)" for local M/W/LBE, local meaning "the ?ve (5) boroughs of New York City." While Columbia states its goal is to hire minority- and women-owned businesses, these businesses can come from anywhere in the city, not necessarily West Harlem.
***
At 135th Street and Broadway, you'll find Bus Stop Diner, which has been sitting in the same pragmatic spot—near several major bus stops—since the 1950s. I sat down in a patterned booth with the current manager, Peter Kokis. Kokis explains that his intensive and multicultural menu, which offers food from fried jumbo shrimp to Tortas al Pastor, has contributed to the diner's longevity despite changes in the area.
Kokis and Ramon Diaz, owner and operator of Harlem's Floridita at 125th Street and 12th Avenue, explain that the area used to be predominantly black and Hispanic, but now they have seen more diversity coming to the neighborhood. Diaz tells me that his Cuban restaurant was not originally tucked away under the viaduct on 12th Avenue. In 1965, Diaz's uncle Benny opened up the first Floridita restaurant on 138th Street and Broadway, but later moved down to the corner of 125th Street and Broadway. For about 40 years, Floridita remained in that same spot.
"Then in 2010, Columbia and I came to an arrangement for relocation because of the expansion, and this space was what was offered for relocation," Diaz explains.
On Broadway, near the bus stop and train station, Floridita was a diner through and through. Diaz remembers when $1 coffees and $3 sandwiches were the norm; meanwhile, the daily special—rice, beans, and meat—was an affordable $5. He says they would sell over 800 café con leches and 400 sandwiches a day and had about 50 employees. At one point, Diaz even was able to keep the place open for 24 hours. Since moving, he has been forced to increase prices and tells me that now he sells around 40 to 50 coffees and maybe 100 sandwiches.
"Moving to this location on 12th Avenue put me off the beaten path," Diaz explains.
Lance Freeman, a professor in the urban planning program at Columbia GSAPP, has also noticed significant changes in the Harlem area. His research focuses on gentrification and ethnic and racial stratification in housing markets, and he is the author of There Goes the 'Hood: Views of Gentrification from the Ground Up, a book on the changing neighborhoods in Harlem and Brooklyn.
"We have definitely seen a greater number of higher-end restaurants that you would not have seen 25 years ago in West Harlem," Freeman tells me.
Restaurants near Givens' Miss Mamie's Spoonbread Too used to specialize primarily in southern food and soul food, but as Harlem evolved and "gentrification accelerated, so did the type of restaurant." Now, he has started to see more Italian, Greek, Asian, Mediterranean, and African cuisine. In response, he has shaped his menu to attract a more diverse clientele. He hands me a menu from his pocket and shows me something called "international comfort food," which he rotates on a weekly basis. There are African, Asian, Latin American specials, among others.
Diaz mentioned that the changes in West Harlem have impacted the way food businesses are run in the area. Between the 1970s and the 1990s, West Harlem was mainly home to blue collar and working class warehousing. Even as late as 2010 in this area, it wasn't worthwhile to "brown bag" your lunch because Floridita was almost the same price, with the added comfort of sitting down in a booth with some music and some heat or air conditioning. But now it's different. "You know, that sounds like if it was a thousand years ago, but it really was 10 or 12 years ago," Diaz laughs.
He tells me he now has a wine list and expensive bourbons and scotches, which didn't previously exist in restaurants on Broadway. He thinks that his restaurant is still relatively less expensive than typical New York establishments, but his menu and restaurant model has changed to adapt to the changing demographics of people.
For instance, he tells me that Cubans tend to use a lot of cumin powder. It's part of the flavor of the Cuban cuisine. According to Diaz, his old clientele, which was mainly Latino and black, loved that the black beans had a strong flavor of cumin. But the new clientele doesn't like the strong flavor, so he had to reduce the amount in the recipe.
"You need to tweak your kitchen to accommodate the new palette," Diaz says.
Lewis has also seen a change in the type of cuisine offered in Harlem. She tells me that people originally associated the area with southern cooking or soul food, yet now, she sees that there are almost none of these restaurants left. "You'd be really hard pressed to find one in the Hamilton Heights section of Harlem," Lewis explains.
She explains that she has been seeing much more Asian cuisine, rather than Hispanic or traditionally black food. "On this street, there are two sushi places, a Chinese restaurant, and Tidal Tea," Lewis observes. "I watch all the neighbors and they're like what's going on?"
Lewis says that the staff and the food don't really reflect what she is interested in eating close to home. She doesn't feel as welcome in these newer and more upscale restaurants that are popping up: "You can walk by any of these restaurants and see that Harlem as a whole is not fairly represented."
Joung tells me that the demographics of West Harlem factored into the decision he and his partner made to put one of the Cap't Loui franchises in West Harlem, rather than their original choice in Tribeca. He noticed there were places featuring Asian, Mexican, Indian, and Italian food, among other cuisines, on the street, but there were almost no restaurants in the area that had southern comfort food. In response to this gap, he decided to locate his Cajun/Creole restaurant in West Harlem.
John P. Greco III of 123BSB at 12th Avenue and 125th Street feels like the change coming to the neighborhood is actually a good thing. He believes that the area has gotten more attractive and safe: "I find this area of being the next SoHo, or the next West Broadway," Greco says.
Restaurateurs note that demographics have changed both in respect to ethnicity and age in West Harlem. Once upon a time, Kokis had a primary consumer based between the ages of 50 to 75; now he believes it is more like 18 to 28. Tekeste has been seeing the same trend happening at Massawa.
On one hand, Lewis loves that more youth and diversity is coming into the area. "The local grocery stores now carry items that I've never seen on the shelves before," Lewis says. On the other hand, demographic changes can hurt restaurants as well. "There's so much transience now that it's very difficult to maintain a core group of people to support your bottom line," Lewis sighs. She tells me that there was a time where she had about 300 people that she would see at least once a week. (Diaz feels the same way about his old consumer base.) Lewis says now, as older populations pass on, newer residents come in that are not as "anchored to the community."
Local food business owners have noticed that there seems to be a push towards trendier and healthier food in restaurants who want to cater to the new residents, yet they say this change has not been able to be translated to lower income populations.
Diaz has now been looking at virtual concepts for delivery and catering because he sees that the student population values these options. He's also looking at more vegetarian and vegan concepts as he sees the trend leaning in that direction.
The trend towards healthier food has actually helped Massawa, according to Tekeste. He told me that Ethiopian food has gotten more popular throughout the years because of its substantial vegan options, which are now becoming more popular. Because their new clientele wants healthier food and vegan dishes, Massawa has changed its menu in the past few years to adapt.
Many local restaurants face a pressure to develop an aesthetic in light of the more upscale restaurants moving into the area around them. Lodge, the owner of V&T, recognizes that he is in a location that has already been gentrified, and specializes in a cuisine where he does not have to worry about keeping up with increasing trendiness: He shrugs and tells me that "pizza and pasta never goes out of style." He also believes since his restaurant has been in the same location since 1951, the restaurant is like an institution in the area. However, Lodge explains that other restaurants often have to put more money and effort into the look and ambiance of the place to "attract certain clientele."
Givens agrees that local restaurants "need to have a certain look." He tells me that he felt an immense pressure to become a "white tablecloth" restaurant, because many of the restaurants that have moved in near him are more upscale and trendy. "The customer base here in Harlem got used to a more slick presentation," Givens tells me.
In West Harlem, Abujebel felt a similar pressure to make more changes to the interiors of his juice shop to keep up with the changing demographics in the area. Consequently, he renovated his juice bar nine months ago.
For Massawa, Tekeste's game plan involves looking into what other trendy restaurants have been doing. "We just follow the market and our competition," Tekeste tells me. In fact, Massawa just reopened this past September after a yearlong process of renovation in an effort to make the place "more attractive" and "more modern." They wanted a larger space and bigger windows to make it more attractive and welcoming to new clients.
"If you don't change, you die," Tekeste says.
Despite the increasing rents and competition, demographic changes, and changes in the culture of food, Lewis enjoys the amenities that West Harlem has now, and she believes that it still feels like home. But she takes a deep breath and sighs as she tells me that in the future, it may not be recognizable.
Abujebel feels the same way. "There's a lot of different food cultures now and different atmosphere of food for this neighborhood," he notes. "So, a lot of people are wondering why places aren't open for them."
Enjoy leafing through our eighth issue!